IF YOU BUILD IT, OPPORTUNITIES WILL COME.
Through my tenure as a producer and director I have helped revamp, optimize and/or launch the entire video production and post-production workflows for three companies. The guiding principal is that with a more organized process for production and post-production, a team can produce more content, with less stress. This translates to a happier team AND a happier audience.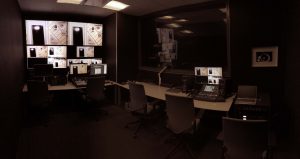 IF YOU OPTIMIZE IT, MORE OPPORTUNITIES WILL COME.
(MAYBE WITH AD SALES DEALS, PLUS YOUR TEAM WILL BE HAPPIER.)
Most recently, I spearheaded the building-out of the in-house studio and the optimization of the post-production workflow for Fandango and Rotten Tomatoes. We went from a blank slate studio room, to a fully functional, modular and professional sound stage where we have welcomed A-List guests as they work the press circuit in promotion of their latest films.

Through the use of relational database services, shared video servers optimized for video editing and a variety of other industry standard techniques, the Fandango/Rotten Tomatoes team is now able to produce on average more than seventy videos per month across their various brands and platforms.
I have also helped a small production company (Retrofit Films) and an Austin-based digital agency (Drumroll) with similar initiatives. Video content is now a necessity across multiple platforms for businesses to thrive. So, a professionally optimized video department is key. MORE CASE STUDIES